One Young World's #TogetherApart Series
The global non-profit organisation One Young World recently created a series of videos entitled #TogetherApart. The series aims to engage the global community on pressing topics, all from the safety of their own home.
One Young World identifies, promotes and connects the world's most impactful young leaders to create a better world, with more responsible, more effective leadership.
The #TogetherApart Series
'We may be physically distancing, but the One Young World Community is coming together to support each other. We're a global Community that works as one to highlight the work of inspiring leaders and changemakers.'
One Young World's #TogetherApart Series draws on the wisdom, experience and insight of its members, allowing everyone to ask questions, tell stories and share best practice.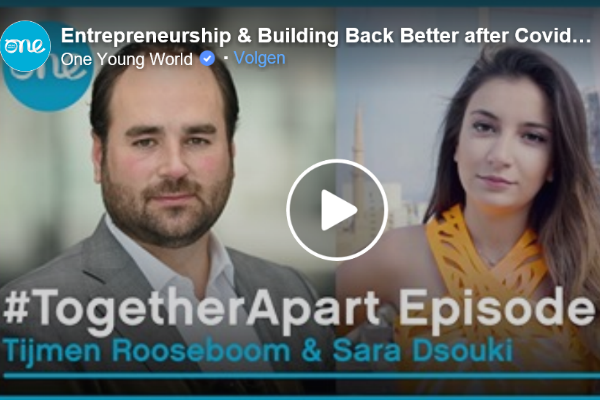 Tijmen Rooseboom in conversation with Sara Dsouki
Tijmen Rooseboom, Ambassador at large for Youth, Education and Work at the Dutch Ministry of Foreign Affairs, speaks with Sara Dsouki from Lebanon, architect, designer and One Young World ambassador. They exchange thoughts on a wide range of topics, like the effects of the pandemic, digital-based startups, support for young entrepreneurs and 21st century skills like flexibility and creativity. Sara is herself an example of someone with those skills: a trained architect now using her skills in the fashion industry; showcasing a cross-disciplinary way of working. At the end of the conversation Tijmen announces the Youth at Heart Virtual Forum and invites Sara to attend on 2 November.