All children have the right to be protected and respected
Lucy Meyer advocates for inclusion of people with disabilities in society: they should be able to get a good education, to develop their skills and find a job just like people without disabilities. Lucy, 21 years old, has cerebral palsy resulting in both physical and intellectual disability. That has not stopped her from achieving remarkable goals. She is not only a Special Olympics athlete, but also a Global Champion for Generation Unlimited as well as the official spokesperson for the Special Olympics – UNICEF USA Partnership.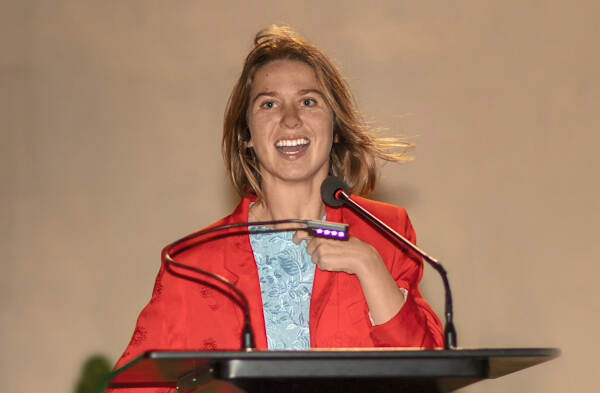 As a Special Olympics athlete, she has won five gold medals in swimming. Now she devotes her live to share a simple message: that all people have value and are worthy of being included. Since 2015, Lucy has traveled on behalf of the Partnership around the U.S. and the world working to raise awareness and funding for important programs for children living with disabilities.
She addresses questions like: What could be done to make schools/work places more inclusive? Do the current education system and work training programs available at schools and companies support and welcome people with intellectual disabilities?
"There is often a strong stigma for children with disabilities. I want a world where kids with and without intellectual disabilities always include each other and help each other and have fun together. All children have the right to be protected and respected."
Lucy Meyer - Spokesperson for Special Olympics:
We should have a say in our future just like anybody else.
Because we are no different.

Muziek speelt.
Beeldovergang in vormgeving Youth at Heart.
Lucy Meyer - Spokesperson for Special Olympics:
My name is Lucy Meyer, and I'm the spokesperson for the partnership between the Special Olympics and UNICEF USA for kids with disabilities.
I'm also a Champion for Generation Unlimited.
I have cerebral palsy, because I was deprived of oxygen for five minutes at birth.
The doctors told my parents I would never sit up or swallow.
The doctors were wrong.
Young people can become leaders by advocating what they believe in.
People with disabilities should be able to have jobs, because they are smart and intelligent.
Just like everybody else.

Quote from Lucy Meyer at a Chicago school:
There's nothing better than when young people help other young people.
Muziek speelt.
Beeldtekst: Youth at Heart.
Youth at Heart and inclusion
On November 2 Voice organizes a session where four young African women will share their lived realities on what inclusion/exclusion means to them. They will discuss what an inclusive school, workspace and society look like and how they found their voice. Studio Pink: VOICE: Youth@Heart, Inclusion@Soul

Watch the virtual forum on YouTube
Do you want to hear more stories from youth in Africa and the Middle-East? The Dutch Ministry of Foreign Affairs organised the virtual forum Youth at Heart. Here young people from the Middle East and Africa discussed their experiences and thoughts about education, work and participation.
All sessions of the Youth at Heart virtual forum that was broadcasted on 2 November 2020, can be watched on our YouTube channel: Livestream 4 studio's on YouTube