IT enables anyone to become a global citizen
Twenty-one year old Betelhem Dessie from Ethiopia wants to help people in her country develop more IT skills – not only for their own personal development, but also for the development of Africa as a whole. 'We've used these machines for so long. Now we need to become smarter than them.'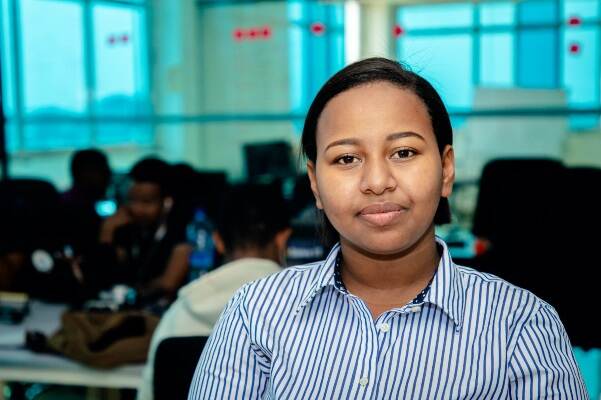 Hearing her soft, unassuming voice, you wouldn't immediately think that 21-year-old Betelhem Dessie from Ethiopia had already achieved so much. It all started in her father's electrical goods shop in the town of Harar, where the computers waited unused for their next owner to buy them. As a young girl, Betelhem would switch one on every so often, and try to delete system files. If the computers no longer worked, she'd take them to the repair shop and watch while the computer was fixed. She'd ask questions about software and tools, and soon she was able to repair computers herself.
Why was she so interested in computers at such an early age? 'In those days, no one did much with computers,' she says. 'I wanted to be special, and I found it exciting to try new things.' Now she works as a developer for various government programmes. She's travelled all over the world to tell her inspiring story, and now she's the CEO of a business that helps children and young people find their way in the world of technology.
'IT enables anyone with a laptop and access to the internet to learn all sorts of things and become a global citizen.'
Coding prepares you for life in the 21st century
Betelhem wants as many young people as possible to learn the language of computers. In teaching children and young people, she mainly focuses on computer coding. Through computer coding, they also acquire other major skills, like better problem-solving and critical thinking skills, and the ability to look at a problem from different angles. 'To put it in a nutshell, It prepares you for life in the 21st century,' she says.
Educational programmes
Betelhem takes her mission very seriously. Working with iCog-labs she launched two different educational programmes, and is now their CEO. With Anyone Can Code (ACC), Betelhem goes to schools in Ethiopia to provide after-school courses and summer schools on coding and digital literacy. Anyone who's interested can take part, though places are limited. 'We work on the basis of first come, first served,' says Betelhem. Children who can't afford to pay can get help from ACC, or from embassies, NGOs and other funds. With her second educational programme, Solve IT, Betelhem helps young people in the 18 to 28 age group who want to be tech entrepreneurs.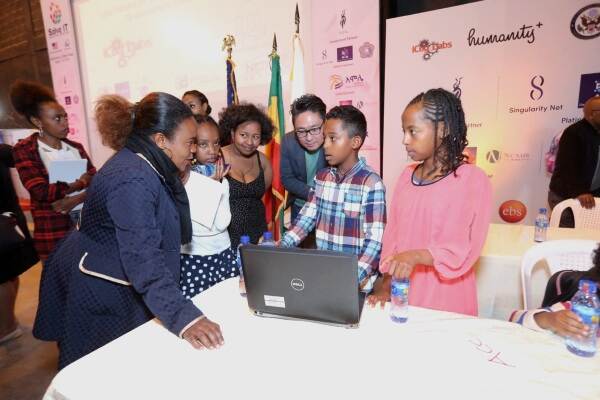 From Power Rangers to Software Engineering
That Betelhem possessed both technical skills and business acumen became fairly clear around her ninth birthday. When her father refused to give her money to organise a birthday party, she decided to earn it herself using her computer skills. By offering technical assistance to her father's customers and editing videos, she made more money than she could ever have imagined. 'I earned around 90 dollars a day. That was an incredible amount of money!'
Betelhem tells all this in fluent English, a language she learned mainly thanks to her father. 'Though he didn't have much schooling himself, he understood the importance of education,' says Betelhem. He bought dictionaries which his daughter had to copy. If she wanted to watch Power Rangers or a film, she had to write down what the characters were saying and repeat the words. 'And it worked,' she says. At school, Betelhem perfected her English, then went to the capital, Addis Ababa, to do a bachelor's degree in Software Engineering.
The need to have access to the internet
Betelhem believes that IT is not only important for people's personal development, but also for the development of Africa as a whole. 'For years now, people living in Africa have just used these machines. Now we need to become smarter than them.' She wants much wider access to the internet in her country, so that everyone can contribute to the big data being collected there. If that doesn't happen, she's afraid that whole regions and populations will be left behind. 'Soon computers and artificial intelligence will be taking decisions and generating ideas, and some people will be left behind.' She takes the example of seatbelts to explain this abstract problem. To start with, they were only tested on men, with the consequence that the victims of collisions were more often women and children.
'If you're not involved in developing new technologies, they're more likely to hurt you,'
Local tech entrepreneurs to solve local problems
In Betelhem's view, a culturally, demographically and geographically diverse country like Ethiopia needs local tech entrepreneurs to solve local problems. 'You can't just copy technological solutions from somewhere else,' she points out. The Solve programme is therefore designed to encourage young entrepreneurs to focus on these local problems. She tells us the story of a young man who was surprised when, on a visit to town, he wasn't offered milk in his coffee; there wasn't any. He knew that in the surrounding villages there were plenty of smallholders who were extremely keen to sell their milk. When Betelhem returned a year later, the young man was supplying milk to the town, with the help of a laptop and a van. He was using an app to calculate the shortest route based on where the cows were located. 'An outsider would never have come up with this solution, because they wouldn't have known that it was a problem,' says Betelhem.
The biggest challenge Betelhem keeps coming up against is the invisibility of the IT sector in Ethiopia. In other countries she sees hubs and co-working spaces, where techies meet and where there is lots of innovation. 'There are very few places like that here, and even the universities don't encourage them.' By chance, Betelhem discovered a building in the town of Bahir Dar in northwest Ethiopia where many techies met. And why was that? Because the building was equipped with WiFi. 'So they met there out of necessity,' she says.
Role models to inspire
As well as more innovation hotspots, Ethiopia also needs more role models. 'You need to be exposed to the kinds of things you can build with IT,' says Betelhem. 'Without this, it's very difficult to imagine. And to get really inspired, you need people who look like you.' For girls especially, role models in the technology world are thin on the ground.
New career opportunities
For this reason, Betelhem worked with the American embassy to train girls. She is now a partner of the American investment company Kudu Ventures which supports female entrepreneurs. Betelhem's aim is to reach out to young girls in particular. 'From the moment they start secondary school, young girls are confronted with all kinds of assumptions – from their environment or their parents – about the kind of work they should do when they're grown up. They think, "I'm a girl, so I've got to do this or that." So ACC has a special programme for girls, focusing on building their self-confidence and exposing them to role models.'
In the past few years, Betelhem has also learned to engage with young people in other ways. Not only on social media, for example, but also by going from door to door. Mainly to convince the parents. 'In many African households, the parents decide what their children will do. If they see doctors behaving properly and earning a good salary, they'll want that career for their children,' says Betelhem. So here too role models, like Betelhem herself, are important. 'I can convince parents that the path I chose was successful.'
Betelhem plans to continue to pursue her mission, and now wants to extend her programmes to other countries. She's already given computer coding training to students in the United States and Sweden. Betelhem believes that the schools there choose her organisation because it's refreshing. 'They are often keen to learn about our continent and our culture. And we inspire women and people of colour. If we can achieve our ambitions, what's to stop them?'
Published by OneWorld
This interview was first published in Dutch by OneWorld.nl: Ethiopië heeft eigen techneuten nodig om onze problemen op te lossen. Author: Katja Keuchenius.

Watch the virtual forum on YouTube
Do you want to hear more stories from youth in Africa and the Middle-East? The Dutch Ministry of Foreign Affairs organised the virtual forum Youth at Heart. Here young people from the Middle East and Africa discussed their experiences and thoughts about education, work and participation.
All sessions of the Youth at Heart virtual forum that was broadcasted on 2 November 2020, can be watched on our YouTube channel: Livestream 4 studio's on YouTube