World Press Freedom Youth Newsroom
Part of the World Press Freedom Conference 2020 on 9 and 10 December is the Youth Newsroom: 15 young reporters and mediamakers from all over the world. They will cover WPFC 2020 in their own way, through photography, vlogs, video, social media or podcasting.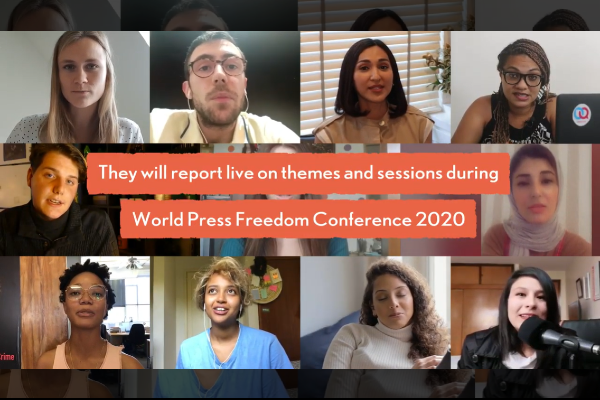 Journalism without Fear or Favour
The theme of this conference is Journalism without Fear or Favour. In their introduction video on youthnewsroom.org the young reporters tell about the (lack of) freedom of press in their own countries: Namibia, Colombia, Kosovo, Vietnam, Serbia, Montenegro, Libya, Cuba, Ethiopia, Germany, Italy, North Macedonia, the Netherlands, Bosnia Herzegovina, and Indonesia.
To cover the World Press Freedom Conference they are guided by a team of experienced journalists and editors. The result will be a range of articles, photos, video and audio coverage of the global event, bringing in fresh perspectives and made with creativity.
About World Press Freedom Conference
This conference uniquely gathers journalists, media companies, human rights defenders, members of the judiciary, policymakers, academics, youth, NGOs and everyone who is interested in press freedom worldwide.
"A free press is essential for a functioning democracy and a free society" - Stef Blok, Dutch Minister of Foreign Affairs
The WPFC 2020 Digital Edition is organized by UNESCO and The Kingdom of the Netherlands. It takes place on 9 and 10 December.