It's our future: re-imagining education and work in a post pandemic world
Continuing the dialogue on and with youth after the Youth at Heart virtual forum is key. Dubai Cares has taken over the baton with RewirEDX, that took place 15 and 16 December. Together with Restless Development, the Netherlands organized a session that focused on the challenges young people face and the importance of partnership to tackle them.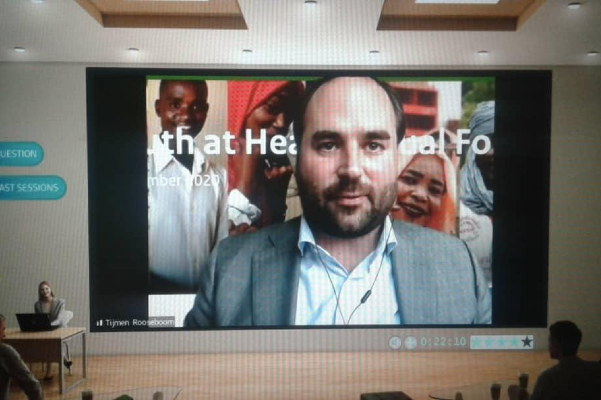 2020 will be remembered as the year in which education has been severely impacted. RewirEDX is a virtual conference that brought people together to engage in meaningful action-oriented dialogue to rethink and reimagine attitudes towards education. Because education is everyone's business.
Youth at Heart Principles
Together with Restless Development, the Netherlands organized a Youth at Heart session in which we discussed the progress on achieving SDGs 4 and 8 in light of the Covid-19 pandemic. Young people shared key lessons and insights on priorities for young people on education, work and their voice and agency in society, in order to deliver on these crucial global commitments and follow up to the Youth at Heart Principles.
Tijmen Rooseboom, Special Ambassador for Youth, Education and Work,  moderated and spoke during a segment on the importance of partnerships to deal with the challenges young people are facing, together with Wiem Chamsi, a young researcher, Dr. Anne Barford from Cambridge University, Rehma Kasule from CEDA international and Drew Gardener from the ILO.
Prospects-programme example of partnership
"A great example of a successful partnership is the Prospects-programme by the Dutch, which ensures different stakeholders work together to improve the prospects of young refugees in the region of origin" mentioned Drew.
"Partnerships are crucial, but young people have to be part of them to make it work", which is in line with the Youth at Heart Principles to which Wiem, a young researcher from Tunesia, contributed.