"Don't put a general blanket of climate adaptation over African countries"
What are the key deliverables for a successful Climate Adaptation Summit from a youth perspective? On Wednesday 13 January 2021, four young agricultural experts from the Young Expert Program shared their metric of success for the Climate Adaptation Summit 2021 with the Director General for International Cooperation (DGIS) Kitty van der Heijden. 
The Climate Adaptation Summit (CAS) took place on the 25th and 26th of January 2021. Hosted by the Netherlands, the CAS aims to accelerate climate adaptation worldwide. The outcome is a Climate Adaptation Action Agenda: an agenda setting a roadmap to 2030 with concrete activities and results to accelerate adaptation action around the world.
The young experts came from different parts of Africa: Jelila from Benin, Joana from Ghana, Alpha from Kenya and Drocelle from Rwanda. Jointly they came up with three outcomes for a successful Climate Adaptation Summit,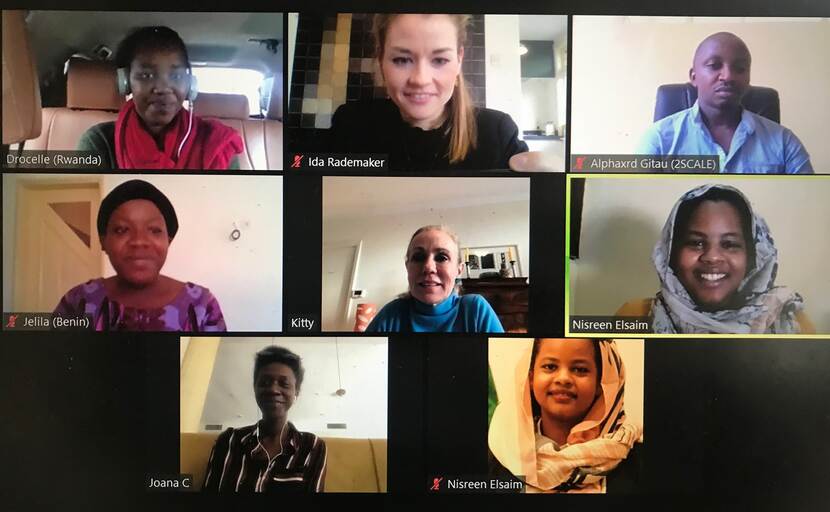 Three key deliverables
1. Align to national government priorities
Jelila kicks off: "Challenges, and thus policy priorities, in countries in Africa are different from countries in Europe." She advocates for the Climate Adaptation Action Agenda to be in line with the climate policy priorities of African countries. West Africa has different challenges from East Africa; North Africa from South Africa. Joana adds: "And some African countries might not have climate adaptation on top of their list. Instead, these might be education or health systems."
2. A tailored approach
Each region in Africa has specific needs. This means that policy must address these specific challenges. Climate-smart technology and innovation need to be tailored and viable for specific regions and farmers. Jelila and Alpha highlight the importance of having more resistant seeds instead of higher yielding varieties, greenhouses adapted to the local situation and the importance of access to finance, especially for women and youth.
3. The triple A
The young experts call upon the accountability of leaders, the need for real action on the ground, and to involve all relevant actors in policy making and implementation. For the latter, Drocelle emphasizes the importance of including small-scale farmers, the backbones of Africa's food production. Joana sees an increasingly important role for creative designers, to help find solutions for waste and food losses. And Alpha mentioned the importance of involving youth in designing and implementing in all activities.
Reality check
Kitty van der Heijden thanked the young experts for this reality check. She closed the session: "We need to makes sure that whatever the Dutch Ministry of Foreign Affairs is doing, it is steeped into realities of Africa people. This is especially the case for women smallholder farmers, who bear the brunt of the food sector but also the consequences of inaction to climate change."
Young Expert Program
The four agricultural experts are part of the Young Expert Program, a program funded by the Dutch Ministry of Foreign Affairs since 2013. This program creates a young, renewed, inspiring international network and builds expertise in the field of water, agrofood and renewable energy through Dutch organizations.