Life in a red zone
Colombia often makes the newspapers, with stories of demonstrators killed on the streets, and the highest number of murdered environmental activists in Latin America. But the good news is that this has in no way managed to silence the ideals of these campaigners, and a young generation of leaders are persevering in their struggle for change. We showcase their mission here in four portraits.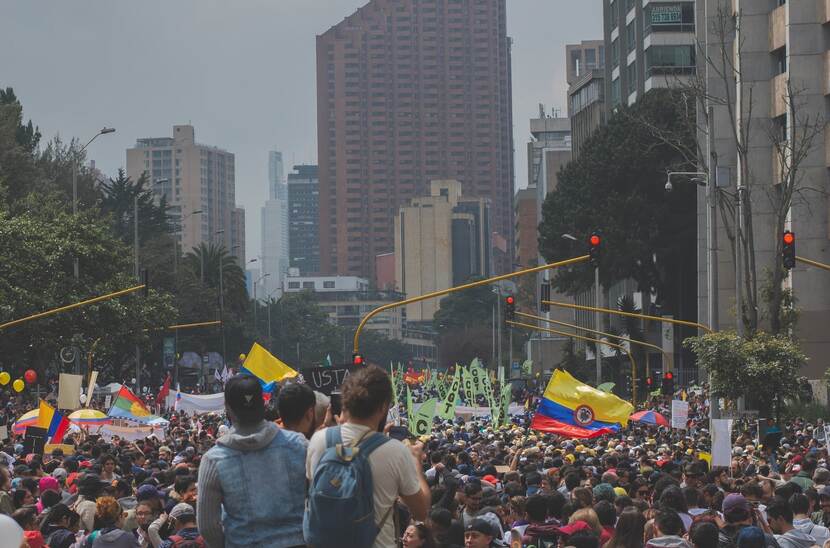 Despite the peace pact between the Colombian government and FARC five years ago, in the intervening period 971 community leaders – activists fighting for environmental and human rights – have been murdered. These people are being intimidated, stigmatised and silenced like never before.
To gain a better understanding of what is happening in Colombia and what drives the activists, Vice Versa has taken a look at the latest situation in one of the three most complex and corrupt regions, La Guajira, which the Netherlands regards as a 'red zone'.
The Netherlands Institute for Multiparty Democracy (NIMD) and the European Union's election observer mission launched a democracy school in February to protect leaders and enhance their democratic skills.
On 28 April a national strike against proposed tax reforms gave rise to a deep-rooted mass movement against poverty, inequality and violence, with its grassroots among poor young people in urban areas. The protests led to road blocks, vandalism and a record 35,000 COVID-19 infections a day. Colombia remained in the grip of the protests for two months. The military resorted to armed force, and 80 people were killed on both sides.
The government dismissed the demonstrators as 'vandals' seeking to cause chaos, making no mention of the true causes of the unrest: poverty (last year the number of people living in extreme poverty rose by 2.8 million), violence (which the country has suffered for the past 60 years) and deep inequality (it is said that 1.5% of the population owns 52% of the land). Stringent anti-COVID measures only exacerbated the situation.
Seeing the violence against social leaders in Colombia, the NIMD and the EU mission came up with their project to help with the development of efficient policies to prevent violence and protect leaders, particularly in the Cesar, Córdoba and La Guajira regions.
La Guajira shares its east coast with Venezuela, and the islands of Curaçao, Aruba and Bonaire lie a short distance across the Caribbean. This position makes it an ideal strategic base for criminal groups, and a route for smugglers.
Despite the economic potential of the region, home to Cerrejón, a huge mine that produces more than half the nation's coal, the majority of the population lives below the poverty line. Leaders who campaign against corruption, poverty or environmental damage regularly face threats, and they need better protection.
The School
Democracy schools have been set up in three provinces, where 170 leaders are now learning about inclusive democracy. The lessons involve practical assignments and theory, and cover subjects like good governance, problem-solving methods, measuring impact and project management.
In the interactive practical part of the training, the teacher will put a question to the group like 'What is the best time to take action for a fair Colombia?'. The answer from the class, divided into groups and asked to write their answers on sticky notes is a resounding 'Now! Because lives are at risk, and something needs to be done soon', and 'Now! We can only prevent future problems by acting now'.
Another question: 'Which actors need to be involved in the action?' Answer: 'Victims of the conflict, social leaders, the state, the police'. Or: 'How can we fight this?' Answer: 'By saying: we are active leaders, we represent the vulnerable who have no voice, we are taking action; by reporting things to the police, informing and training people, and publicising what we do'.
Unusually, the groups are mixed in terms of age, ethnic background and political orientation. People from both ends of the political spectrum discuss matters in a relaxed atmosphere.
This dialogue is valuable in itself, but the leaders also specifically learn safe ways to fight for their rights. The lessons and the encounters also strengthen the students' leadership identity.
Matteo Bullones Rojas
Like most residents of La Guajira, Matteo Bullones Rojas comes from Venezuela. He is a migrant, a former Venezuelan weightlifting champion (210 kilos) and a trans man who campaigns for the rights of the LGBTI community.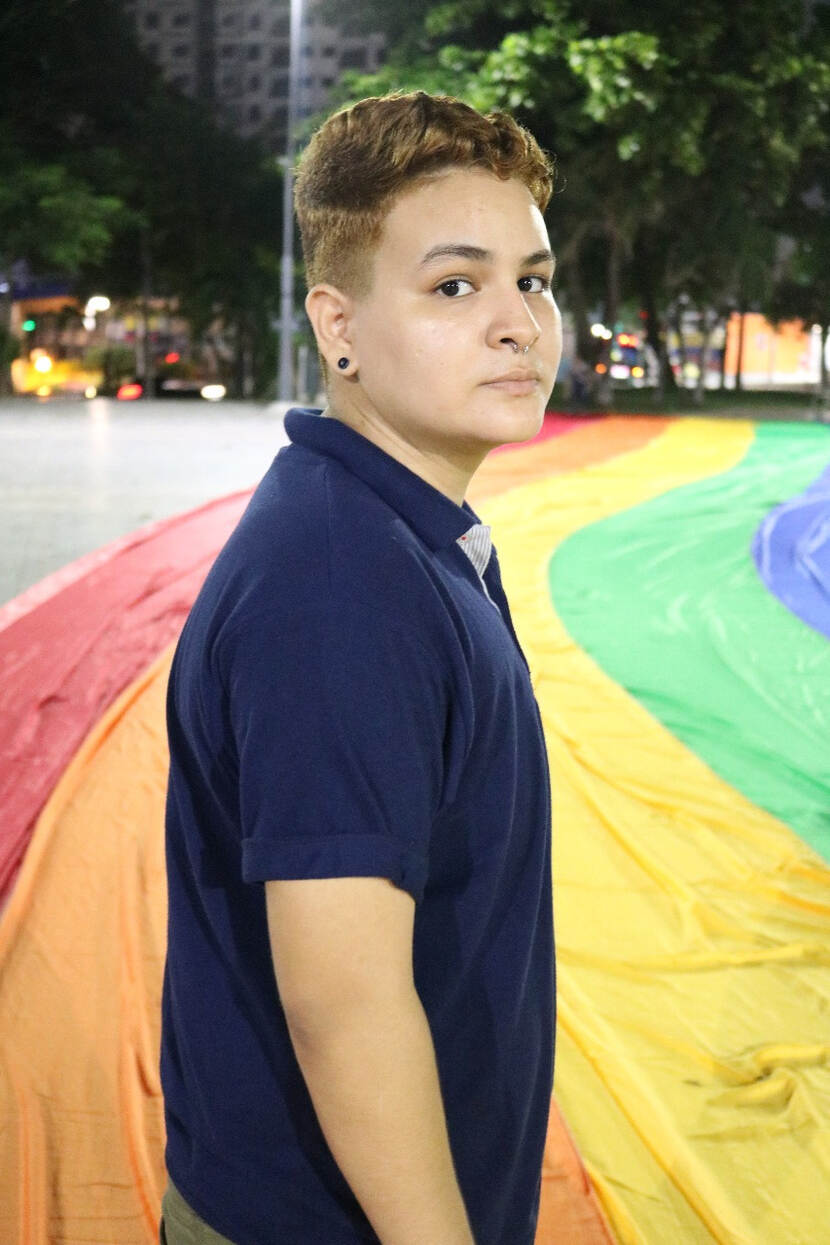 'I grew up in Lara', he says. 'We decided to emigrate in 2017. In Colombia you can earn in a day what you earn in a month in Venezuela. I found a more liberal culture here, gay marriage is legal. Since I never felt like a woman even as a child, I started to explore that feeling here in Colombia, and have gone by the name Matteo since 2019.
'I've also changed my name legally. I'm the first trans man in this region, and am leader of the trans movement, which has 16,000 members. Though it's not easy to be trans. I regularly get threats and have been beaten up in the street.
'I work 17 hours a day, often seven days a week, as a chef in a fast food place, as well as studying law. My lessons are online, so I can follow them while working in the kitchen, with earphones in. I hope to graduate in family and commercial law, and campaign with NGO Caribe Afirmativo for a more inclusive Colombia.
'One way of doing that is by being visible, so that others know they're not alone, and by distributing food aid to trans people and sex workers. We make huge pans of soup, talk about the importance of medication, vaccination and the risk of HIV, and we give out condoms. We also have legal and psychological counselling for those who need it.
'There are lots of prejudices about trans people: that we're sex workers, that we only want to work on the street, that we're not intelligent, that we exploit others. The reality is that it is often impossible for us to work in commercial enterprises, so the majority of us are poor, and have to work on the streets to survive. There's lots of potential in the group, but it never comes to fruition because of discrimination.
'We also help young people to become inclusive leaders. One of my goals is to train a group to support other people in the LGBTI community, so that they know they're safe, that they don't need to be afraid, that they're not alone and that there are people who want to help. Our focus is 80% on Colombians, and 20% on Venezuelans.
'This country needs leaders who are willing to fight for a socially inclusive Colombia. That's the only way to reduce the violence and the prejudice. As a leader of the trans community I want to make people aware, and I want acknowledgement – that we exist, and will still be here in the future. They need to know that if they keep killing us and violating our rights, there will be legal repercussions, that the impunity will end one day.'
Sandra Sierra López
Sandra Sierra López grew up in Riohacha, the capital of La Guajira. She has direct experience of machismo in her own life. Her father left after she was born and has since fathered 13 other children with other women. She is concerned at the lack of women's participation in politics, and about the extreme levels of corruption in her region. Nevertheless, she has hope that positive change will come, and wants to be a new kind of leader.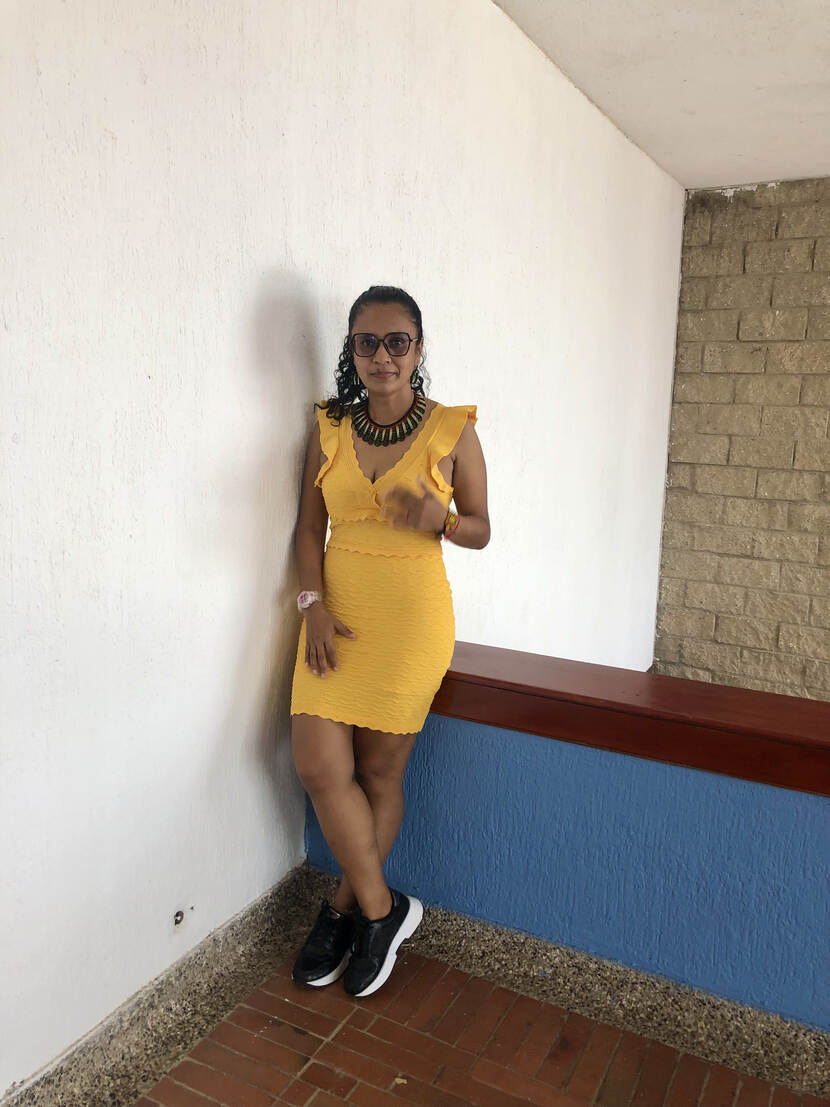 'In many regions of Colombia the patriarchal culture is deeply rooted in daily life,' she says, 'but if there's one department in Colombia that can get over its machismo, it's La Guajira – it's no coincidence that it's the only province with a feminine article.
'Women have to work together more to tackle the machismo and claim a greater role in politics. Our contribution is too marginal, even though we're in the majority: 52% of the population are women! Only by joining forces can we close the gap.
'Women can make good politicians, perhaps even better than men. The women I meet in the public sector are doing an excellent job meeting the needs of the community. My country has always been led by men. If women work together, we can ensure that Colombia gets its first female president.
'Riohacha has existed for 470 years and has so much potential! But we're only growing in numbers, not in opportunities. There are so many people who know nothing but hold certain positions here simply because of who they know. And the money often does not end up where it's supposed to. A leading hospital, specialising in rare diseases, was to be built in Maicao, but it became nothing more than a "white elephant". The building is there, but it only provides basic services.
'People say that corruption will never end here, but I'm convinced that money can be spent properly. But once politicians have been elected, they forget their goals. A lot of politicians have been sent to jail for theft and corruption – the prisons are full of them. I pray to God, the universe, and my ancestors that I don't end up in a place like that, and that I remain consistent, that my actions correspond to what I think and say.
'It's my dream to be a different kind of political leader and to tackle the corruption here. The desire to serve others is in my blood, it's fantastic when people raise their voices when they don't agree with something. Politics exists to bring about change and serve, serve, serve the community.'
Dana Esther Navarro
She is on an internship working as an inspector at a banana plantation, and she and her grandmother are members of the ANUC, the national farmers' organisation, which keeps records of who owns and leases land, for the farming industry. Numerous members of the ANUC have been abducted, threatened, stigmatised and murdered since it was established in 1967. Dana Esther Navarro represents young people from Aguajira.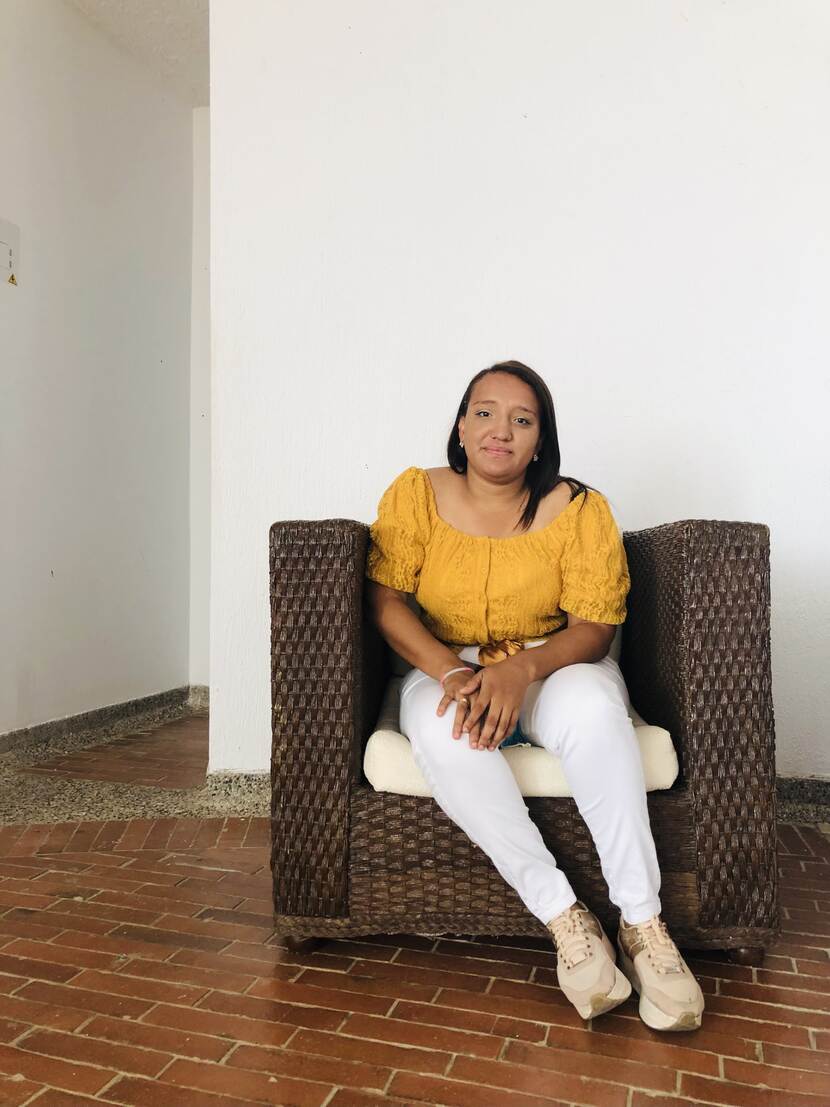 'I check the use of pesticides, water, acids and oil. Except when it's really busy, then I'm putting stickers on bananas and packing them in boxes from five in the morning to nine in the evening. If they are too yellow, or bruised, we give them to the staff, or they're sold at market. We have to protect our environment, no one else will.
'In May and June', she says, 'there were mass demonstrations all over the country, and there were protests in my region too. It was chaotic at the beginning, lots of fighting, but soon things became more peaceful. I couldn't take part because I had to take care of my aunts, who were sick, and eventually died of COVID.
'My friends went though. They were calling for a better life and good education – that's no reason to throw young demonstrators in prison, or even kill them, is it? We are doing our best, but the government also has to help, they need to protect us when we fight for our rights. Then we won't need to flee, or suffer threats.
'I wish there was less violence in Colombia. I've already been through a lot, and my grandma has been threatened. Not long ago five armed men came on motorbikes at three in the morning. They banged on the door, shouting and demanding that we stop our work. My grandma is a community leader, she's fighting for the rights of farmers, just like me.
'I can teach young people so much: how to fight safely for your own rights or those of others, how to demand that the government protect us, by writing letters or organising demonstrations, or reporting things to the police. And about the importance of dialogue and other ways of achieving a goal without violence or intimidation.
'Sometimes we young people achieve successes. Students now get 400,000 pesos a term (90 euros, ed.). The programme's called "Youth in Action". It encourages young people to study, and prevents them from hanging around the streets. This is how we can help build a new Colombia, by helping people make progress.'
Yasser Romero
Yasser Romero is the ethnic secretary of the youth political party Dignidad, which is active in 20 provinces of Colombia. He identifies as Wayuu, fights for environmental, human and women's rights, and against corruption, dreaming of a fair Colombia where everyone is treated equally.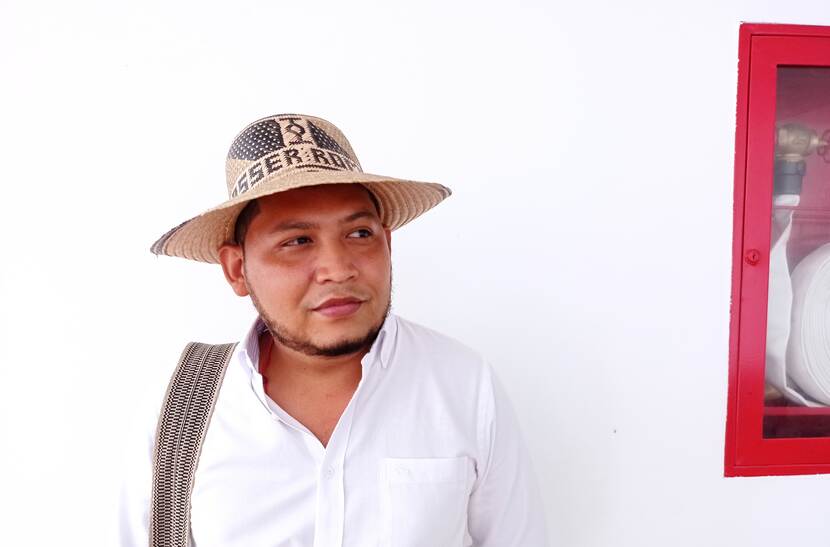 'I get up at six o'clock every morning to work on my thesis on the oral law of the Wayuu community, which is passed on from one generation to the next,' he says. 'It's a very poor community. In this region, 87% of Wayuu families live on less than 50 euros a month, and they often have eight to ten mouths to feed.
'I also work for the Comité Cívico por la Dignidad de La Guajira, which campaigns for fairness and environmental protection in the region. We work with trade unions, handing out flyers, submitting complaints and fighting social injustice and discrimination.
'And we keep an eye on the licences. At the moment there are applications to exploit 97% of the region's natural resources. There's a lot of corruption in that world, and sometimes I or the organisation receive threats. Like in 2018, when I was providing legal support in an anti-corruption case. Someone called and said if I didn't stop, I wouldn't be around to tell the tale.
'I also work for a feminist organisation, one of only four men there. We teach mainly single mothers about the importance of good nutrition and contraception, and we hand out food and personal hygiene projects, sponsored by small regional companies.
'There's a lot of malnutrition here, it's worse than in some parts of Africa. Over the past few years 5,000 children have died in hospitals in the region, often due to lack of clean water, which is caused partly by pollution from the mining industry.
'My dream for Colombia is that some day it will become a fair country, without extreme inequality. May human dignity be preserved, long may it endure! I hope things will become fair and there will be no more discrimination.'
This article was previously published in 'Vice Versa - Jongerenspecial 2021'
Text: Merel Rumping