'Young people, it is our time, our turn and our future'
To ease young people's transition from learning-to-earning, a MENA regional high-level meeting took place on Young People's Learning, Skilling, Social Inclusion and Transition to Decent Work.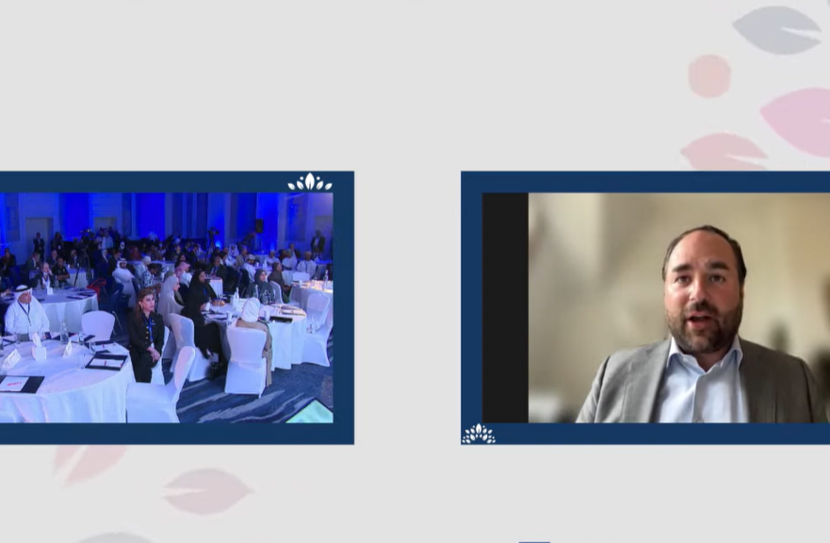 Levels of youth unemployment in the Middle East and North Africa are among the highest in the world. In early 2019, before the onset of the COVID-19 crisis, youth unemployment stood at about 27%, and unemployment among young women stood at around 38%, despite their relatively high levels of academic qualifications. Covid-19 has exacerbated pre-existing bottlenecks affecting youth employment across the region.

To address these issues and call for action to ease young people's transition from learning-to-earning, the Issue Based Coalition for Adolescents and Youth for the Arab States, including the Regional Offices of ILO, UNDP, UNFPA and UNICEF, together with Generation Unlimited and young people hosted the MENA Regional High-Level Meeting on Young People's Learning, Skilling, Social Inclusion and Transition to Decent Work.
Power of Partnerships
Purpose of this event in Amman (23-24 May) was to enable the exchange of good practices relevant to adolescents' and youth's learning, skilling, and transition to decent work across the region, and to address bottlenecks that affect young people on their journey from learning-to earning. On Tuesday 24 May, the Ambassador for Youth, Education and Work – Tijmen Rooseboom – joined the session on the Power of Partnerships. This session was organized to inspire public-private-youth partnerships that can support the response to key bottlenecks in the transition of young people in the MENA region from learning to earning.
Ambassador Rooseboom demonstrated multistakeholder partnerships and platforms that are achieving change at scale, and stressed the need for active involvement of government, private sector, UN agencies and young people. He emphasized that 'We need to talk with young people instead of for or about them. And we need to facilitate a mind shift to work together with young people.'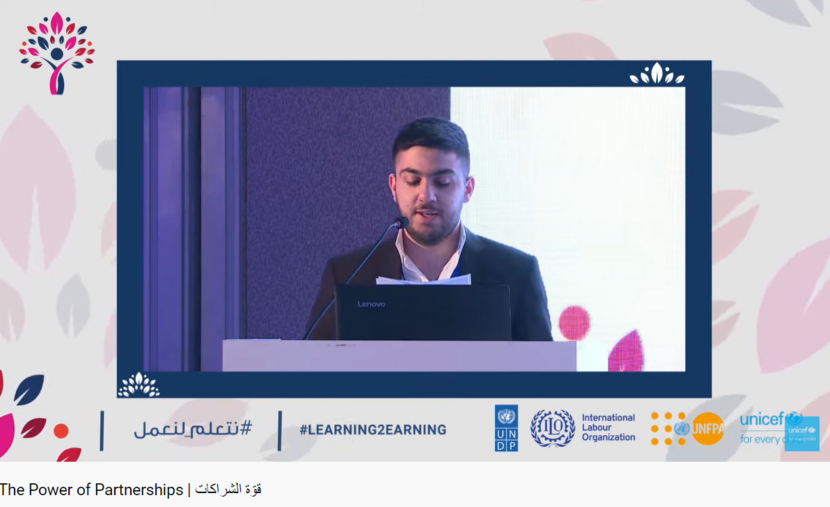 Amongst the inspirational speakers, was also Najib Mattar from Lebanon (founder for Act for Impact and part of the GenU leadership council). He also highlighted the importance of meaningful youth participation within partnerships: 'Youth participation must go further than just giving them a seat at the table. Young people, I urge you to take any opportunity that comes your way. It is our time, our turn and our future.'
Digital and green economy
Outcomes of this session included the need to create learning-to-earning opportunities for young people, in particular 21st century skills to prepare them also for the digital and green economy. As well as the importance of the inclusion of refugees and forcibly displaced persons, and providing them with the right status and documentation in order to access skills and jobs. Concluding with the message that partnerships, public-private and with youth, are critical to maximize our social impact.
Young people's recommendations
Ensure that curriculum reflects market-relevant skills, aligned with the contemporary realities of the labour market
Foster collaboration between ministries and the private sector in curriculum development and teaching practices
Strengthen pedagogical approach towards fostering market-relevant skills and raise efficiency of educational staff
Activate young people as changemakers, encourage investment in young people and showcase economic benefits
Strengthen young people's exposure to the world-of-work, internships, apprenticeships and on-the-job-learning
Provide career guidance to young people about market-relevant skills and labour market demands to secure a job
This event will not be a 'stand-alone' event, but is one of several events in the run up towards the Transforming Education Summit taking place in New York in September 2022, alongside the UN General Assembly. The outcomes of this event, including a joint Call to Action with regard to the easing young people's transition from learning to earning, and national level commitments, will be used to inform the Summit in September.
Meaningful progress
Furthermore, this MENA HLM will become a regular forum (next planned for 2024) which will enable the region to unite to share progress, exchange good practices and co-creation further solutions to address bottlenecks. And to promote a shared agenda across governments, private sector, youth, CSO and UN which will inform meaningful progress on these issues.
For more information, please check out: Regional High-Level Meeting on young people | UNICEF Middle East and North Africa