International Youth Day: 'Young people are the drivers of change'
August 12th is International Youth Day. By 2050, half of all young people worldwide will be living in Africa. And more than half of the countries in Africa expect to see their populations almost double over the next 30 years. This rapidly growing and young population creates challenges, but also opportunities, as Ethiopian Hanna Mulugeta recognises. Hanna explains why young people need to have a key role in the Netherlands' Africa Strategy.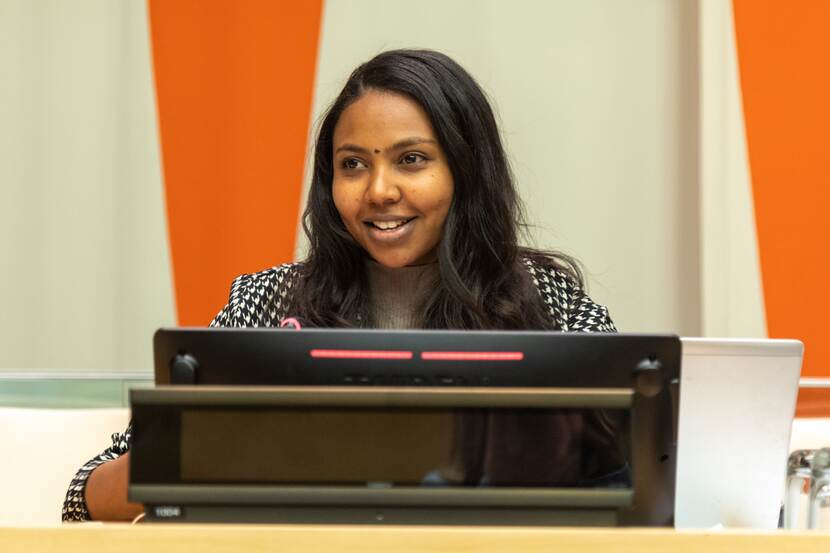 In late May the Netherlands presented its Africa Strategy for 2023-2032. It describes how we plan to work together over the next 10 years to pursue the shared interests of Africa, Europe and the Netherlands, including cross-border challenges relating to migration, trade, the energy transition, climate, security and food security.
Read the full text of the Netherlands' Africa Strategy 2023-2032 (in Dutch) or read the summary (in English). 
Consultations
The Netherlands' Africa Strategy is the product of broad consultations and in-depth discussions among social partners, knowledge institutions, businesses, the African diaspora, international organisations and government bodies. The 25-year-old Hanna Mulugeta attended a consultation meeting at the Dutch embassy in Addis Ababa, Ethiopia.
Young population
Ethiopia is one of the most populous countries in Africa. Hanna explains that it is a very diverse country: 'There are many different ethnicities and religions and big differences between rural and urban areas. And there are lots of young people, over 70% of the population in fact.'
It is a major challenge to provide this young and rapidly growing population with jobs, housing, education, healthcare, proper nutrition, connectivity and security. But this also presents opportunities for Ethiopia. 'We have a huge working-age population, and many young people are ready for change, ready to grow and learn. But they often run into obstacles,' Hanna explains.
High costs and employment
The two-year conflict between the Ethiopian government and militant groups in the northern region of Tigray left its mark, especially on the young population, says Hanna. 'Many young people died in the fighting, and people in the hardest-hit areas lived without electricity, education and healthcare for two years.'
What's more, high inflation and a severe shortage of jobs is posing challenges for many young people. 'There are lots of graduates, in medical sciences and engineering for example, who can't find work in those sectors. So a large proportion of the young population is unemployed,' Hanna explains.
Hanna also doesn't work in the field she actually studied for. 'I have a technical degree but now work as a youth coordinator at Right Here Right Now 2, a Dutch-funded programme on youth participation, gender-based violence and sexual and reproductive health and rights. Something completely different,' laughs Hanna. Nevertheless, she is very passionate about her current job. 'My ultimate goal is to ensure that young people are informed and involved in all decision-making processes that affect them.'
The Netherlands and Ethiopia
The ties between the Netherlands and Ethiopia go back a long way and are spread across various fields. For instance, there are over 80 Dutch companies operating in Ethiopia, mainly in agriculture and floriculture, helping make the Netherlands Ethiopia's second export market. The development cooperation programme in Ethiopia is also the Netherlands' largest in the world.
Equal partnership
The African Strategy is underpinned by an awareness of the value of understanding each other's positions and a willingness support each other in the areas they each find important. Hanna, too, emphasises the importance of equal partnerships: 'It's good that young people from many different African countries have been invited to share their views, because a strategy like this can only work on the basis of equality. It's important for the Netherlands and Europe to understand the local context here by working with local partners and organisations and constantly seeking feedback.'
Driving force
The Africa Strategy sets out plans for the next 10 years. How does Hanna see the future? 'I'm cautiously optimistic,' says the Ethiopian, expressing admiration for her community's resilience. 'The country is struggling with problems and the community has been through a lot, but we persevere. Even though things are tough, we still try to help each other out.'
Hanna hopes that young people will be listened to better in the future. 'Young people are full of creative ideas and can help innovate and modernise in agriculture. Engaging with young people and letting them have a say in their own future will open up opportunities for Ethiopia. Young people are the drivers of change.