Co-creating with youth in Nigeria to improve job opportunities
In Nigeria, Technical Vocational Education and Training (TVET) institutes prepare their students for direct employment in traditional sectors such as construction, welding and carpentry. Yet the future of work is changing. How to improve education to empower youth with the skills they need for the job market?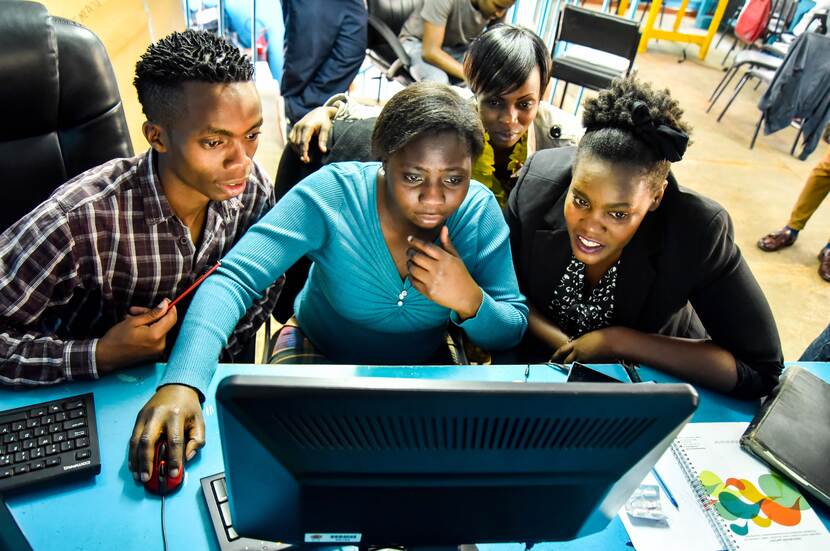 Together with Oxfam and partners in Nigeria, Butterfly Works is working on the challenge: How might we improve current Technical Vocational Education and Training to empower youth with the skills they need for the job market today? This work is done as part of the Work in Progress! alliance (WiP), which aims to tackle youth unemployment in Nigeria by enabling young people to gain skills and have access to jobs and opportunities in the labour market.
Co-designing solutions
Butterfly Works facilitated a co-creation process together with students, TVET managers, TVET teachers, designers and other educational stakeholders in Nigeria. Co-creation opens up space for all voices to be heard, especially of people who usually have limited power to influence decisions on issues that matter to them. The main outcome of this co-creation process is the need to prioritise digital skills in TVETs, which took shape in a co-designed concept for the development of ICT training in TVET called Digital Labs.
Digital Labs
The Digital Labs concept is an accessible and engaging online space for youth and teachers to learn and practice digital skills by making use of mobile phones, small bites of content (micro-learning) and fun elements. In the future, it should be complemented with an offline learning environment using computers and the Internet. For full insights and recommendations on Butterfly Works TVET work, please read this report about co-creating ideas to improve TVET education and job opportunities for youth in Nigeria.