From the farm to the market: Ghanaian young people and designers tackle food waste
On International Youth Day (12 August) young people worldwide will be thinking up creative ways to make production more sustainable and reduce food waste. In this article Joana Chemel from Ghana, who previously participated in the Young Expert Programmes (YEP), talks about how the creative sector and young people play an important role in food innovation efforts in Ghana. 'Coconut oil often used to be packaged in a way that was neither sustainable nor attractive.'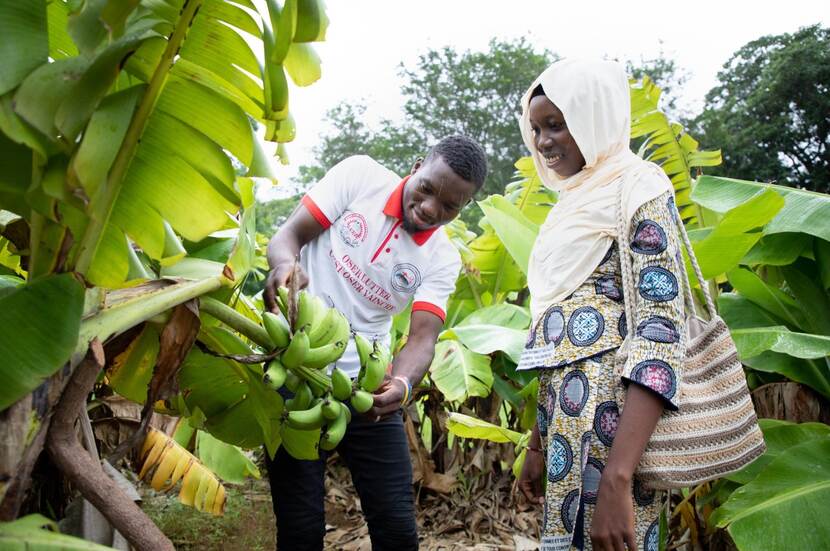 In Ghana, a lot of produce goes to waste before it even gets as far as a shop or market. Unprocessed products are often highly perishable, as a result of which a lot of produce is lost during transportation or once it reaches the shelves. Joana believes the creative industry holds the key to innovation: by reducing food waste, boosting shelf life and creating greater added value for agriculture produce.
Joana says that many food products are still sold in plastic and other non-sustainable packing, which reduces their shelf life. It was in the Netherlands that Joana first became aware of the role design can play in the food industry, during a visit to Dutch Design Week in Eindhoven. As a 'Young Expert' she has used this inspiration in her work for the Ghana Netherlands Business and Culture Council (GNBCC), collaborating with businesses and designers in Ghana on creative ways to package and process food.
She explains how packaging design can help to extend a product's shelf life and keep the nutrients intact, for example if the packaging is made resealable and no plastic is used. This also allows products to be transported greater distances, so that they can be exported or sold to people who live further from markets.
Coconut oil in glass bottles
As well as increasing shelf life, packaging design also makes products more attractive, which increases the added value. One example is the rebranding of Ghanaian coconut oil.
'Coconut oil often used to be packaged in a way that was neither sustainable nor attractive,' says Joana. 'Usually in plastic. The tropical climate in Ghana meant plastic was not suitable for packaging. It negatively impacted the oil's shelf life and nutritional value.'
'Glass proved to be a more sustainable alternative. The Ghanaian brand Ava, which sells several types of coconut oil, adjusted its packaging process, with the help of designers. When I saw the new bottles for sale I didn't realise it was a Ghanaian product. It looked imported. But everything is done in Ghana: from making the glass bottle to printing the label and marketing the product.'
Plantain chips
Plantain chips are another example. These baked slices of cooking banana are a popular on-the-go snack in Ghana, sold everywhere at stalls and in shops. Joana explains that they used to be sold in simple transparent plastic packaging. Because the product was so popular, people came up with the idea of more suitable and attractive packaging, in the form of specially designed resealable packets.
'The whole process has been overhauled, from the very start at the farm. The chips are made at a reliable farm and production has become more hygienic. Thanks to the improved packaging and a rebranding campaign, people are willing to pay more for the product.' Joana adds that the chips are now also available in a range of flavours including cinnamon, BBQ and spicy. 'Rebranding and design have totally transformed Ghana's plantain chip industry.'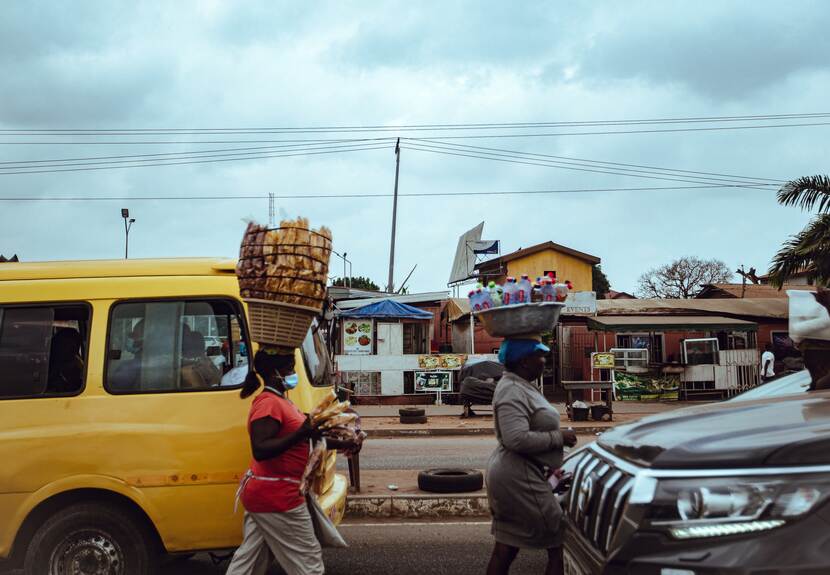 Preventing and reusing food waste
Better packaging means longer shelf life and less food waste. 'Designers are also able to find creative ways of reusing any remaining food waste. Ways of turning it into fertiliser, for example, which can be used instead of chemical alternatives to increase the yield of dry soil,' Joana says. She believes the future lies in the circular economy: 'Innovation is creativity. By involving designers at every stage of the process, we can move towards a circular economy: rethink, redesign, reuse.'
Putting young people in charge
In Ghana the overwhelming majority of farmers are over 50, and many young people don't have the know-how or the means to take over when the time comes. Joana is concerned about this: 'Young people are the world's future. If food production falls over the next 20 years, young people will be hit hardest. That's why we need more young producers, more young agriculture experts and more young market owners.'
Joana believes more scope needs to be created for young people to learn about climate change and its effects. 'Young people have to be able to buy land themselves and develop expertise on various aspects of the food system, for example through programmes like YEP.' The YEP programmes, co-funded by the Ministry of Foreign Affairs, give young Dutch people the opportunity to gain international experience and work with local young professionals, who in turn have the opportunity to work with Dutch organisations.
Joana points out that sustainability and longevity are closely intertwined. 'When it comes to the future of food, it will be the young people – who have the most years ahead of them – who have to grow it.' The creative industry and young people have to be involved in all aspects of the food system, from decision making to implementation. 'Give young people a say and put them in charge of creating a sustainable food system for the future.'