IASC Guidelines on working with youth during humanitarian crisis
On Tuesday 16 February, the virtual launch of the IASC-endorsed guidelines "With Us and For Us: IASC Guidelines on Working with and for Young People in Humanitarian Emergencies and Protracted Crises" took place. Organized by UNICEF and NRC amongst others, the launch included speakers from the UN, member states and donors, and of course young people.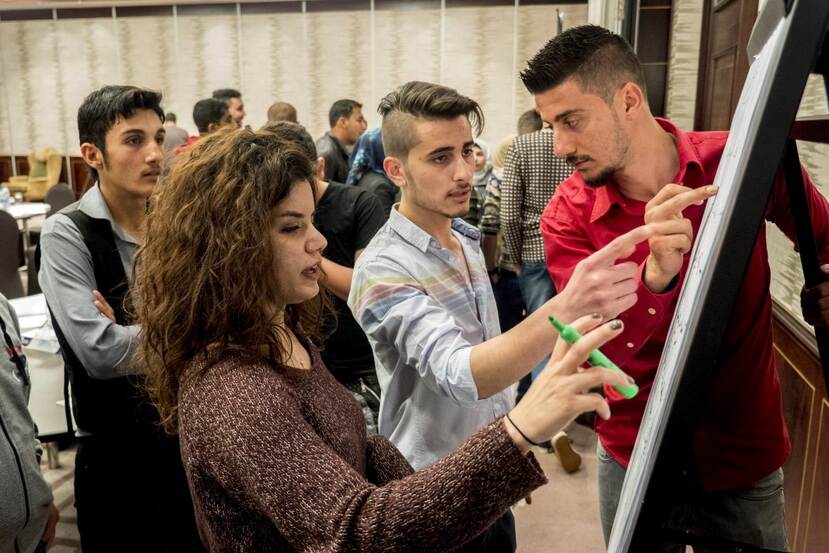 During this event, the guidelines were launched, an interactive dialogue with youth was held and different stakeholders announced their commitments. Tijmen Rooseboom, the Netherlands' Ambassador for Youth, Education and Work indicated: "'With Us and For Us' translates for the Netherlands into 'putting the Youth at Heart' of our international cooperation." Tijmen emphasized the Youth at Heart strategy, which focuses on bridging the gap between the skills young people learn and the job market. This also goes for the Prospects Partnership, enabling young people in a humanitarian context to realize their potential.

Furthermore, Tijmen stated that we should no longer talk about the prospects of young people, without ensuring their meaningful participation. "As the Netherlands we are committed to increasingly put the challenges and opportunities of young people at the heart of our international cooperation, with young people as partners. That is why we support our international and humanitarian partners to implement these guidelines."
Agents of change
Many young people also shared their views: Nujeen Mustafa, a young Syrian refugee and disability rights activist, told us: "If you create a space for me, I will shine." And Valentina Buanco H., a human rights activist from Argentina, stated that young people are not passive recipients of aid, but can successfully contribute. "The contribution young people make to social change is huge. We need leaders who trust us, include us and invest in us."
Commitments from stakeholders included, amongst others, the UN Secretary-General's Envoy on Youth, Jayathma Wickramanayake, who stressed that youth are not victims or threats, "but agents of change." Henrietta Fore from UNICEF said that "it's about giving young people power and trust them."
During this event humanitarian actors and donors committed to the implementation of these guidelines and emphasized the critical need to provide space for young people to ensure their meaningful participation.