Youth Ambassador Laura Bas shares her experience at the UN Commission on Population and Development
Last week, Laura Bas, Youth Ambassador Sexual and Reproductive Health and Rights, Bodily Autonomy and Gender Equality, wrote and represented the Netherlands national statement during the 55th session of the Commission on Population and Development (CPD).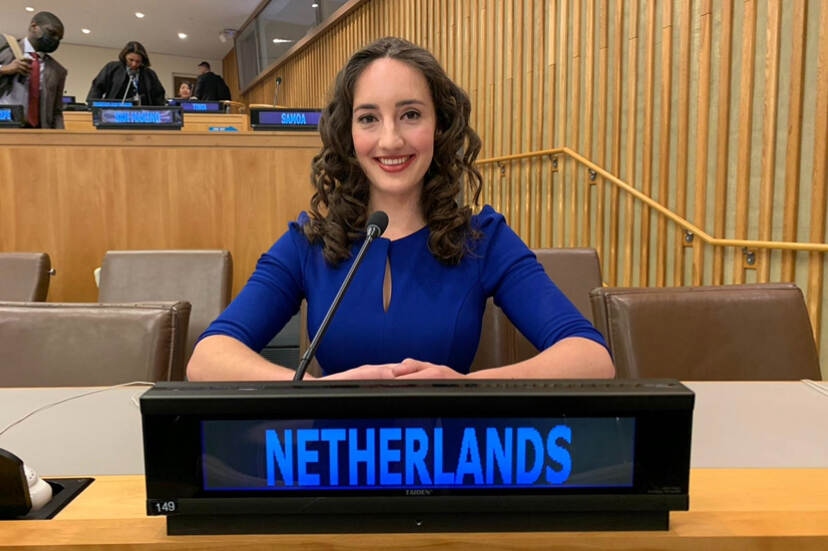 The CPD is an annual United Nations forum, where countries come together to discuss the developments and policies on topics regarding population and development, including specifically SRHR and gender equality. This year the theme was "sustained and inclusive economic growth".
Ironically, while more than half of the world's population is younger than 30 years old, Laura Bas was one of the few young representatives present at the CPD. Therefore, in her statement she emphasized the importance of Meaningful Youth Participation, as well as young people's sexual and reproductive health and rights.
Laura shares her experience:
During the Commission of Population and Development (25-29 April) in New York a big dream came true: delivering a statement at the United Nations. The inspiration for my statement came from all the young people I have had youth consultations with over the past months. Young people from all over the world: from Sri Lanka to Brazil, and from Morocco to Uganda. They shared with me the importance of meaningful youth participation, menstrual health and comprehensive sexuality education.
I chose to share their stories in my statement, because they do not have access to this platform. Since I was one of the few young people speaking at the CPD, and the only Youth Ambassador I hope that I planted some seeds with other delegations and governments to make sure that there will be more youth ambassadors behind the microphones during the next year's Commission of Population and Development.
It was a great experience to see first-hand how diplomacy works. I slightly underestimated the patience you need to have during negations, as well as how exciting, and tense, it can be at the same time. Because the Netherlands was co-facilitating the resolution negotiations, I found out what it is like to take a more neutral position. This taught me to focus on how to find common ground between the more progressive and more conservative countries, and make everyone equally happy, or equally unhappy.
Finally I was also able to meet with  delegates from different countries, and had great meetings with UN Women, UNFPA & UN Envoy on Youth. All in all, it was a great experience to see what it is like to work with the Netherlands Mission to the UN in New York.
Long story short: it was an unforgettable experience!
Read the statement on Government.nl, or watch it on Twitter.