Orange Corners road to YOUTH @ HEART virtual forum sessions
As part of the Youth at Heart virtual forum, Orange Corners organizes 4 online interactive discussions about entrepreneurship. The outcomes of these events will be part of the conversation during their session on November 2. Want to know more? Check out the information about these 4 sessions below!
You can attend these conversations when you register for the events.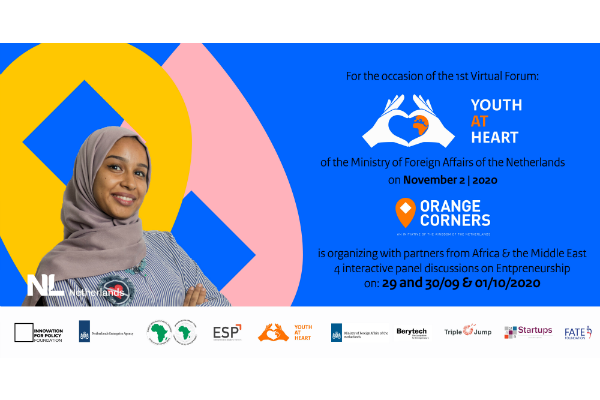 National Start-up Policies, the role of youth and the role of the international community
29 September: 15.00-16.30 
Policies matter. Inclusive policies can enhance entrepreneurial ecosystems  and hence support young entrepreneurs. Although the topic is gaining momentum in Africa, still a lot of work remains to be done when it comes to enabling young entrepreneurs. During this session we are bringing together policy officers, policy change makers and young entrepreneurs. We will be discussing the Start-up Acts that have been initiated in various countries and the role policy makers can play.
How could the access to finance gap for young entrepreneurs in West Africa be bridged?
30 September: 15.30
Good ideas & projects can only be viable if they have access to resources. Currently funding is considered among the top three challenges faced by Entrepreneurs in Africa. During this session we will discuss and try to better understand the underlaying challenges. Join us for this discussion with representatives from the Ghanaian Financial Sector, the International Development community and young African entrepreneurs.
Green & social enterprises in the MENA-region. Towards synergies and enabling systems
01 October: 10:00-12:00
We believe that we should move towards tackling global challenges together. Especially now, it is more important than ever before. The youth has a crucial role to play, as the architects and habitants of the present and the future. We have to appreciate, strengthen, support and connected young social/green entrepreneurs to each other. We need to facilitate these synergies. We need more stakeholders of the entrepreneurial ecosystem to listen and collaborate with them. This way, they can build new and stronger bridges to each other that will lead to new sustainable ventures and solutions. This interactive discussion will be a moment for young green entrepreneurs, policy makers from the MENA region and The Netherlands and private partners to identify, common ground, shared challenges and come up with proposals for initiatives and partnerships that can foster the development of the regional entrepreneurial ecosystem and unlock even further the great potential in impact driven green entrepreneurship.
Female entrepreneurship: The key to global economic development
01 October: 15.00 – 16.30
In many African and Middle Eastern countries women do not have the economic opportunities such as obtaining knowledge, opportunity for paid work and remuneration for work done. Wage job opportunities are relatively scarce in Africa and this is even more the case for women who often have lower levels of formal education and might also face discrimination in hiring practices. Women tend to be given most of the responsibility for home-based work, including childcare, so small-scale home-based businesses may be one of the few ways they can generate an income to help cover the needs of themselves and their families. When you consider that Africa is now a world leader in young female business owners, you can see that unlocking their potential can make a huge contribution to the continent's growth and prosperity. When we level the playing field for females in businesses, we can effectively make African economies grow and greatly reduce inequality while bringing about important cultural shifts. Empowering female entrepreneurs is investing the present and the future.  During this discussion we will dive deeper into the topic and try to understand how the international community can actively play a role in this development.
Developing strong regional Entrepreneurship Ecosystems in a post COVID era
This final event in this series will take place on 2 November at the Youth at Heart Virtual Forum.
What makes an ecosystem strong and sustainable? Entrepreneurship has become a necessity in majority of the African and Middle Eastern countries. Government policies aimed at encouraging and safeguarding entrepreneurs are under construction. Support networks of entrepreneurs are popping up in all urban centres. Experienced business leaders who might be able to provide advice on tackling some of the challenges entrepreneurs face, are increasing. Yet creating an conducive environment for young entrepreneurs requires an holistic approach. During this sessions, experts from different disciplines and regions will provide us with insides and tips regarding strong ecosystems that are regionally connected.
Orange Corners at Youth at Heart
Studio Pink: Youth-Led Enterprises- Orange Corners

Watch the virtual forum on YouTube
All sessions of the Youth at Heart virtual forum that was broadcasted on 2 November 2020, can be watched on our YouTube channel: Livestream 4 studio's on YouTube