Dialogue sessions with youth in the run-up to the EU-AU Summit
"It is important to address the role of young people in Africa and Europe, as they are leading the change. The African nation is generally a young nation. Young people have a crucial role in leading the development in their countries." - Khadija Amahal, member of the Youth Advisory Committee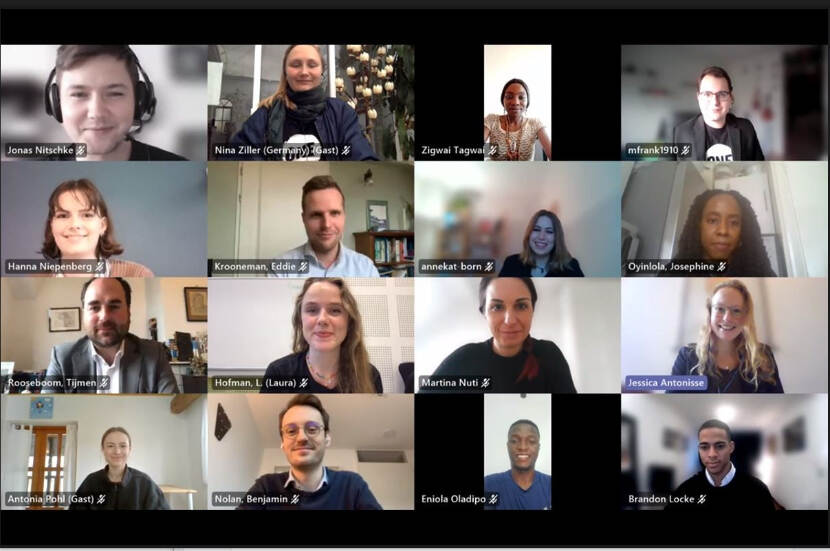 This week (February 17th and 18th), African and European leaders will gather for the Sixth EU-AU Summit. The Summit marks an important moment to discuss the future partnership between the two continents. Global challenges as well as mutual opportunities will be discussed.
The Netherlands is committed to make sure youth perspectives are taken into account as part of the Summit and Partnership. It is crucial for youth to have the opportunity to meaningfully participate and voice out in the run-up to the Summit, during the Summit and afterwards as well. The Netherlands will join several events, amplifying youth voices and listening to what young people have to say.
In the run-up to the Summit, the Ambassador-at-Large for Youth, Education and Work, Tijmen Rooseboom, participated in dialogue sessions with young people from the Ministry's international Youth Advisory Committee (YAC), the ONE Campaign as well as some other civil society organisations.
A few messages were repeatedly brought to the table by the youth:
Africa is the youngest continent in the world. We have to consider young people as partners and leaders. That way, youth will also feel more part and ownership of what is happening in society. This is also essential given the fact that the social contract between youth and their leaders is under pressure in many countries.
Make sure to arrive at a relationship between the two continents that is really based on equality and mutual respect. Youth from both continents do not identify with classical ways of interpreting the relationship from a donor-recipient perspective
Invest in programmes for exchange between youth from both continents (both ways), also as a means to invest in communication and awareness, and counter misinformation and bias.
The importance of cooperation on the production and distribution of vaccines and (mental) health care.
Recognise that young people are disproportionally affected by existing inequalities, which is hampering their ability to contribute to growth. Inequalities have been exacerbated by the impact of Covid-19, leading to postponed graduations, education interruptions and job losses for youth, potentially reinforcing brain-drain. A pledge is made to put the specific interests and challenges of young people at the heart of the EU-AU partnership and investment packages.
YAC member Sinan Assaid urged the Netherlands to share its exemplary approach of involving youth, and to use the platform of the Summit to stimulate others to do the same. In sum, the young leaders indicated that meaningful youth participation is not a nice to have, but a must have in the EU-AU Summit. This can only be achieved when both young people and duty-bearers realise this and work together to make it happen.