Young people from around the world advising on Dutch development policy
Better education, access to digital media and more opportunities for young entrepreneurs. Just some of the messages the members of the Youth Advisory Committee want to pass on to the Ministry of Foreign Affairs.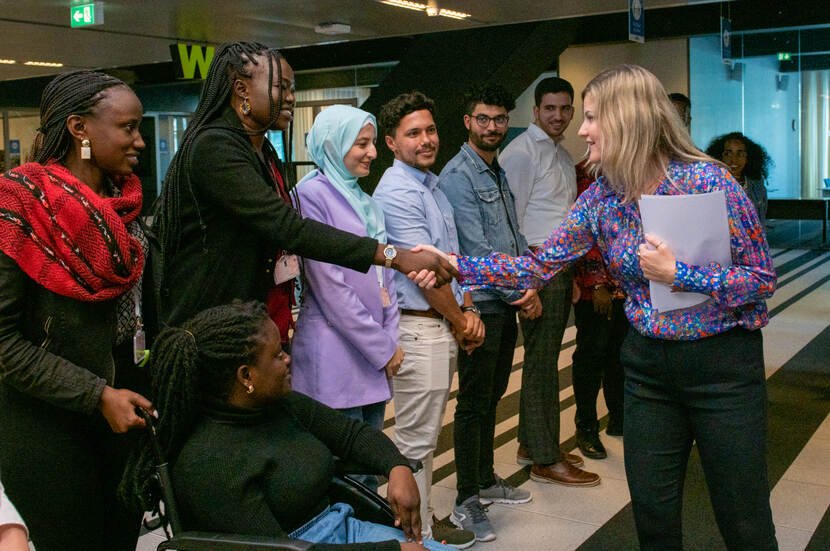 Last year, as part of an 18-month pilot, the Ministry of Foreign Affairs, together with the National Youth Council (NJR) set up a Youth Advisory Committee. The committee members are all under the age of 30 and come from 10 different countries: Algeria, Egypt, Jordan, Morocco, Burkina Faso, Sudan, Nigeria, Uganda, South Sudan and the Netherlands.
Meeting in the Netherlands
After more than six months, the committee members met in person for the first time in the Netherlands. The purpose of the meeting was to facilitate team building, coaching and in-depth sessions with ministry staff. The committee members also shared their experiences and ideas with Liesje Schreinemacher, Minister for Foreign Trade and Development Cooperation, and Kitty van der Heijden, Director-General for International Cooperation.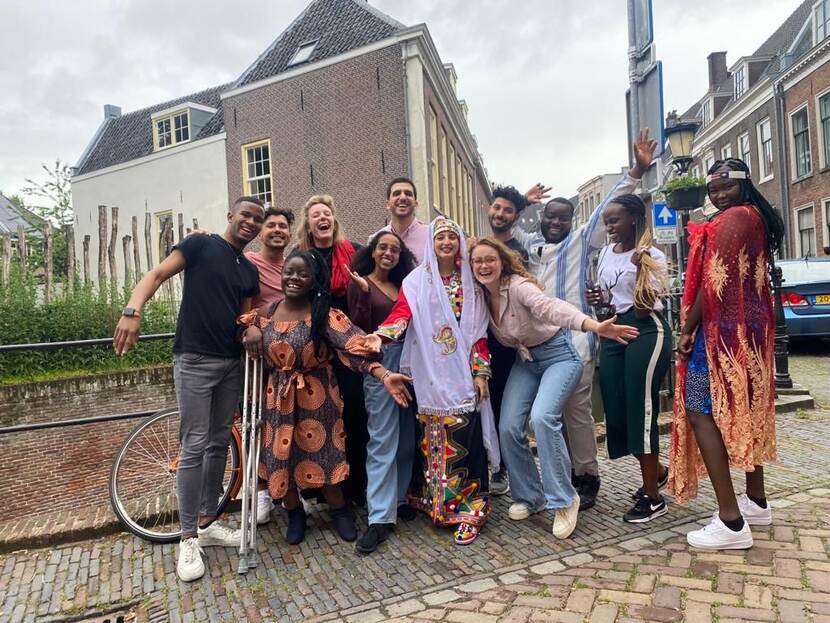 Based on personal experience
The committee works together with ministry staff on various themes. 'In our home countries we discuss a range of issues with young people, including meaningful youth participation, media literacy and employment. We listen to the problems young people face and gather their ideas. We then share these insights with the ministry,' explains Grace Aguil Garang from South Sudan.
Grace believes the fact that the committee members themselves are young is a great advantage. 'As a result, we're inventive in how we collect our data and enter into dialogue with young people; we use things like social media, for example.' The committee members also take a critical look at the ministry's current efforts. 'We ask questions if we believe the Netherlands is not quite on the right course,' adds Rawan Raad from Sudan. 'We're young, so we can share what's important for young people.'
Education and entrepreneurship
Sinan Assaid from Jordan speaks from his own experience as a social entrepreneur when he talks to policymakers, for example. Sinan started his own company, The Good Socks, at a young age . Unemployment is a big problem in Jordan, Sinan says. 'Our economy cannot cope with the large number of graduates. And the quality of education means that the problem isn't going away.'
Kevin Dipema also recognises this problem. 'Many young people in Burkina Faso don't have the right skills needed for the labour market. The education system must be adapted, and entrepreneurship must be developed in order to combat unemployment.'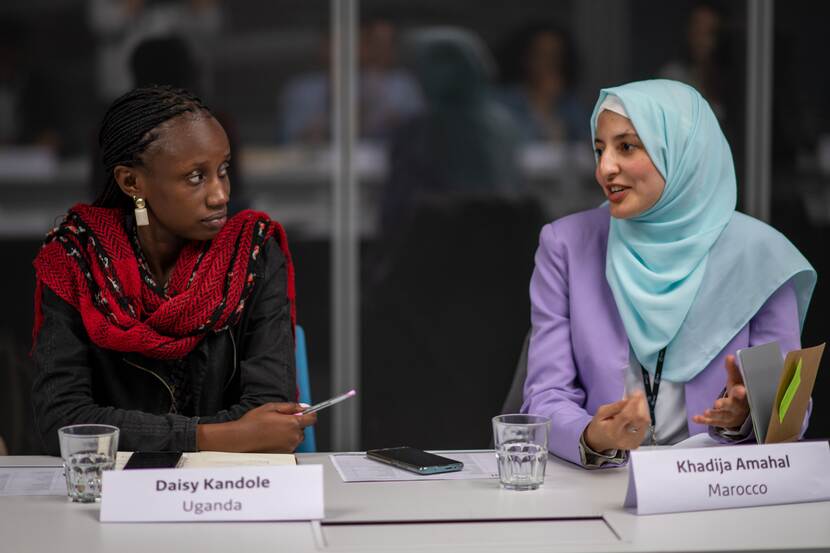 Media literacy
Another theme that the Youth Advisory Committee is working on is media literacy. 'It's no secret that young people have to deal with digital content and a variety of media,' says Khadija Amahal from Morocco. 'That's why the importance of media literacy is reflected in all the themes we work on.'
Digital content and social media can be used, for example, to educate people about sexual and reproductive health and rights (SRHR) and to create opportunities in employment and entrepreneurship. Khadija: 'We use specific examples from our own countries to demonstrate why it's important for young people to understand how media works and how it can be used. We give concrete examples of why media literacy is important and give advice on which specific steps we can take.'
Greater reach
The Youth Advisory Committee has 10 members, but represents the voices of many more young people. 'Our advice does not only come from this group of people, but also from all the young people we talk to and interact with on a daily basis,' says Kevin Eustatia-Palm. Kevin is the only Dutch member of the committee and mainly works on projects in Ghana. 'I myself have a network in Ghana and I try to speak to local leaders there. They often also have a large network, which means we reach many more young people.'
Local Youth Advisory Committees
Several embassies are working on setting up their own Youth Advisory Committees. Sudan is one example. Rawan Raad shared all her ideas about the strategy of the Netherlands embassy in Sudan and is pleased that a local advisory committee is being proposed. 'Young people are not a homogeneous group,' Rawan explains. 'Look at Sudan, for instance. The country is very diverse. How can I represent all young people in Sudan when there are so many different experiences?'
According to Rawan, a local Youth Advisory Committee will help to get a broader picture of the country. Rawan can then share the insights gathered by the local committee with the ministry. Rawan: 'This development is extremely helpful for us as a committee, but also for the ministry. This gives us a better insight into the experiences and ideas of many more young people.'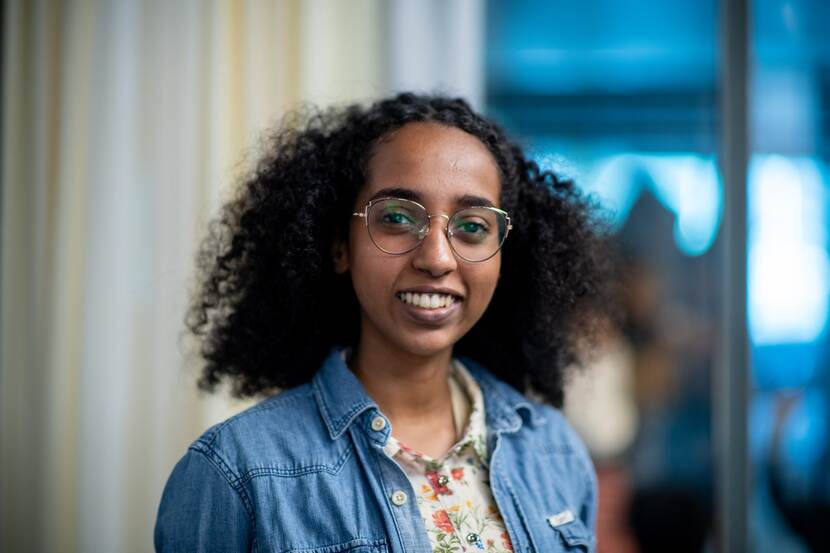 Added value
The Youth Advisory Committee is an important means of involving young people in the ministry's decisions. The committee also emphasised the importance of Meaningful Youth Participation. 'It's not just about the presence of young people, but also about the value of their participation,' Rawan explains. 'We need clear guidelines on this: why should young people be joining this conversation? What is the added value?'
Read more about the Ministry of Foreign Affairs Youth Advisory Committee